IoT/M2M System Infrastructure Cloud Service
Itfor offers system infrastructure related to IoT/M2M on the cloud system. Now, we will realize the functions of the system collaboration and data collaboration related to business applications and cloud platforms in use (e.g. Selection and procurement of the sensor device, Collection, preservation and analysis of sensor data). The various sensing data can be browsed in real-time by the PC and mobile devices. The sensing target can be make remote monitoring, management and control from the cloud server side. In addition it is possible to update the firmware of intelligent devices.


Feature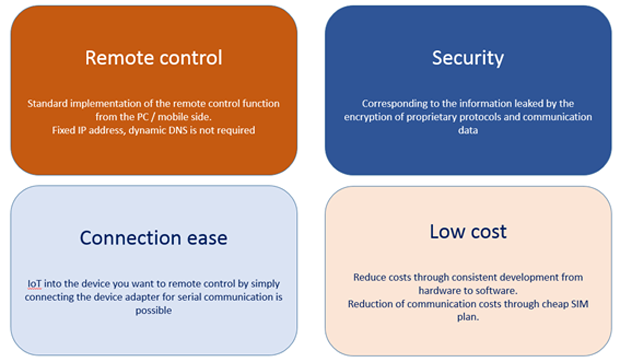 1) Remote control
It is possible to achieve the two-way communication by the original protocol and it is possible to remotely control the device from the host computer side. The greatest feature is a point-added service is not required. (e.g. 'fixed IP address' by provider, 'Unchanging IP address', 'Dynamic DNS (Dynamic Domain Name System)') The user does not need to specify your own DNS server to a device for mounting a SIM.

2) Security
It implements the firewall function to the device adapter itself. In addition, it has taken the information leakage countermeasures by encrypting the data itself flowing.

3) Connection ease
It is possible to IoT with only the operation to connect the device adapter for serial communication.

4) Low cost
It is possible to reduce the initial cost by consistent development from hardware to software. In addition, it is possible to reduce the running cost by cheap SIM plan. In the case of international roaming plan, it was to be able to centrally manage the communication line that has been managed by country. It is possible to reduce system development and management costs associated with line monitoring of the World Wide.
Object (Partner Qualification)
Partner is able to concentrate on the design and development of own applications or services by utilizing the IoT system infrastructure. It never devoted a valuable in-house resources for the construction and maintenance of infrastructure.

| Partner Qualification | Merit |
| --- | --- |
| Software vendors | New applications that incorporate hardware area can develop. |
| System integrator | It is possible to solve the client issues the new solution. |
| Consulting firm | It is able to provide a high-value-added professional services by a cloud service. |
| Internet service company | Not limited to Web, it is possible to create new services that combine realistic. |
| Maker | Breaking away from the business outright sales of hardware products. It is possible to make the transition to the service manufacturing industry. |
| Telecom carriers/MVNO | To create a variety of communication services plan of each field. Thereby, it is possible to win customers. |